Koolertron DDS signal generator counter, 2.8 inch screen display 80MHz high precision dual channel arbitrary waveform generator frequency counter 275 MSa/s, can be controlled by mobile phone
Using large-scale FPGA integrated circuits and high-speed MCU microprocessors, the circuit uses high-precision active crystal oscillators as the basis.

It is very convenient to operate through the mobile application.

Accurate, stable and low distortion.

With measuring and counting functions.

Up to 100 sets of tool status parameters set by the user can be stored, and the parameters can be copied.

Arbitrary waveforms can be drawn.

It can be used in electronic engineering, laboratory, production line, teaching and scientific research, etc.

Modulation type:AM、FM、PM、ASK、FSK、PSK、PWM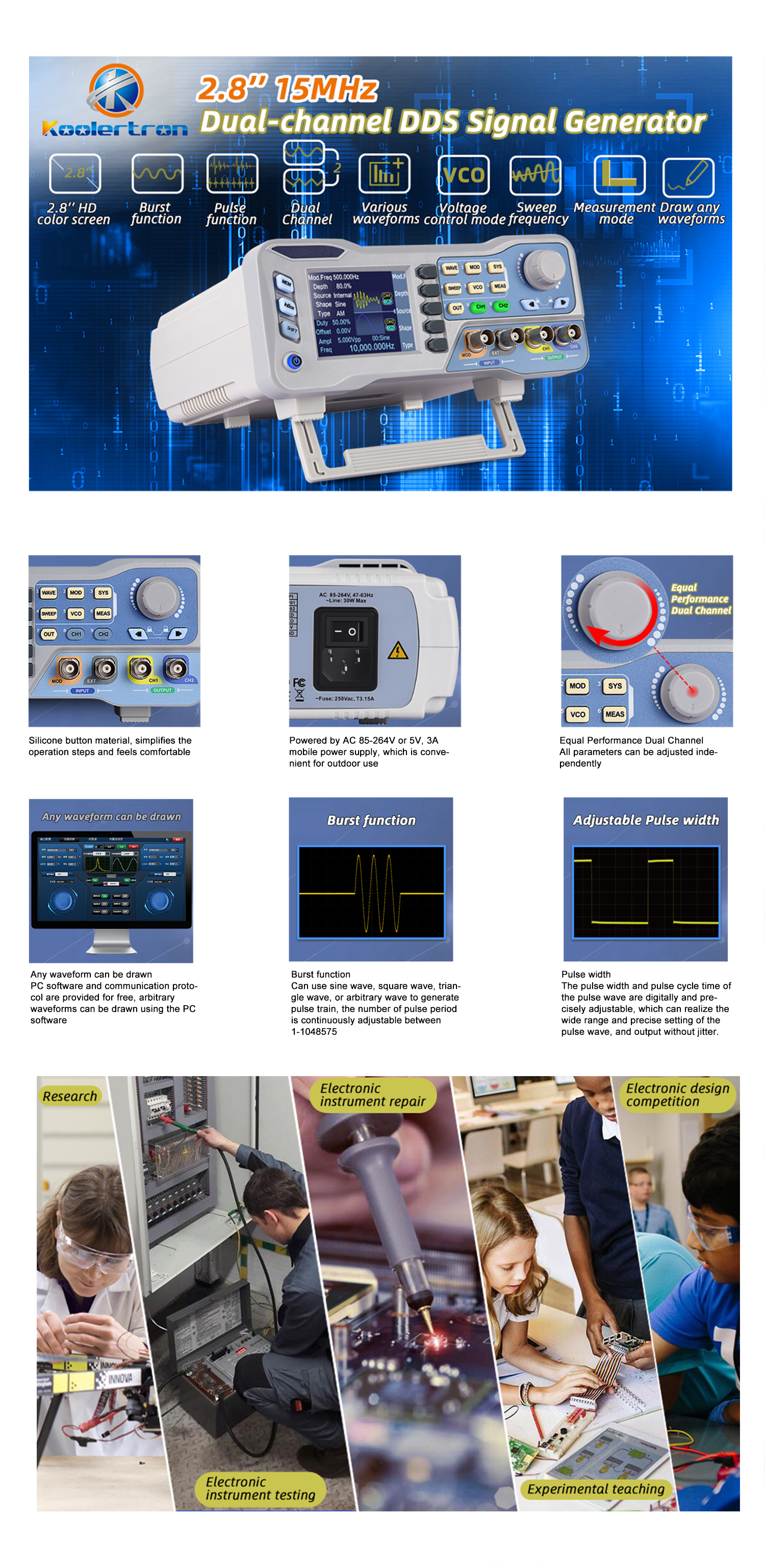 1. Arbitray Waveform Generator adopts large scale FPGA integrated circuit and high speed MCU microprocessor. The internal circuit adopts active crystal oscillator as benchmark. So the signal
stability is greatly strengthened.
2. The signal source can be connected to the mobile phone for control and operation, which is very convenient. After downloading the APP, you can view the relevant data on the mobile phone,
and you can set all functions through the mobile APP, and support the import and export of arbitrary waveform data, which is convenient and fast.
3. Using Dual-channel DDS signal and TTL electric level output to generate precise, stable, low distortion output signal. includes Sine wave, Square wave, Triangle wave, Saw tooth wave,
Pulse wave, white noise, user-defined waveform etc. each channel can be independently set the parameters.
4. With linear sweep(Max. up to 999.9s) and logarithmic frequency sweep functions.Has a frequency measurement, period measurement, positive and negative pulse width measurement and counting function.
5. Storage feature: You can store 100 groups instrument state parameters set by the user, can be called up to Reproduce. Frequency output of Sine wave can be up to 80MHz. 275MSa/s sampling
rate. Waveform Length of each one is 8192 and vertical resolution is 14 bits
6. Can draw arbitrary waveform:PC software and communication protocol are provided for free, arbitrary waveforms can be drawn using the PC software; using the communication protocol can be
secondary development programming; all functions of the instrument can be controlled by the PC software (The instrument can be also finished all operations without connecting to the computer.)
7. This Signal Generator is the ideal instrument for electronic engineering, laboratories, production lines, teaching and scientific research.

Specifications:
• Channels: 2
• Screen: 2.8 inch TFT color LCD display
• Resolution: 320*480
• Maximum frequency of sine wave: 80MHz
• Sampling rate: 275MSA/S
• Waveform vertical resolution: 14 bits
• Waveform length: 8192
•Amplitude: 2mV-25Vpp
Frequency characteristics
• Sine wave frequency range: 1nHz-80MHz
• Square wave frequency range: 1nHz-15MHz
• Triangle wave frequency range: 1nHz-15MHz
• Pulse frequency range: 1nHz-10MHz
•TTL digital wave frequency range: 1nHz-6MHz
• Arbitrary wave frequency range: 1nHz-6MHz
• Frequency minimum resolution: 1nHz (0.000000001Hz)
• Frequency Accuracy: ±5ppm 0 to 50℃
•Frequency stability: ±3ppm per 1 year
Modulation and measurement function
•Measurement functions: frequency, positive and negative pulse width, period, duty cycle
• Gate time: 0.001S-10.000S
• Measurement method: low frequency, high frequency
• Frequency measurement range: 1Hz~100MHz
• Input signal amplitude range: 1Vpp~20Vpp
• Coupling method: DC and AC coupling
Burst function
• Idle: zero bit, positive max, negative max
• Method: One shot
• Trigger source: manual trigger, CH2 trigger, external trigger (AC), external trigger (DC)
• Number of pulses: 1-1048575
Voltage control characteristics
• Voltage control channel: CH1 or CH2
• Carrier: Sine, Square, Ramp, Arbitrary (except DC)
• Voltage control functions: frequency control, amplitude control and duty cycle control
• Sweep Mode: Linear, Logarithmic
Package Contents:
1 * Signal Generator
1 * Power Cord
1 * BNC male plug test lead
1 * USB cable
1 * BNC to alligator clip test lead
1 * Quick Start Manual
More Information

| | |
| --- | --- |
| Brand | Koolertron |
| Weight (kgs) | 1.450000 |
| Maximum Frequency | 80MHz |